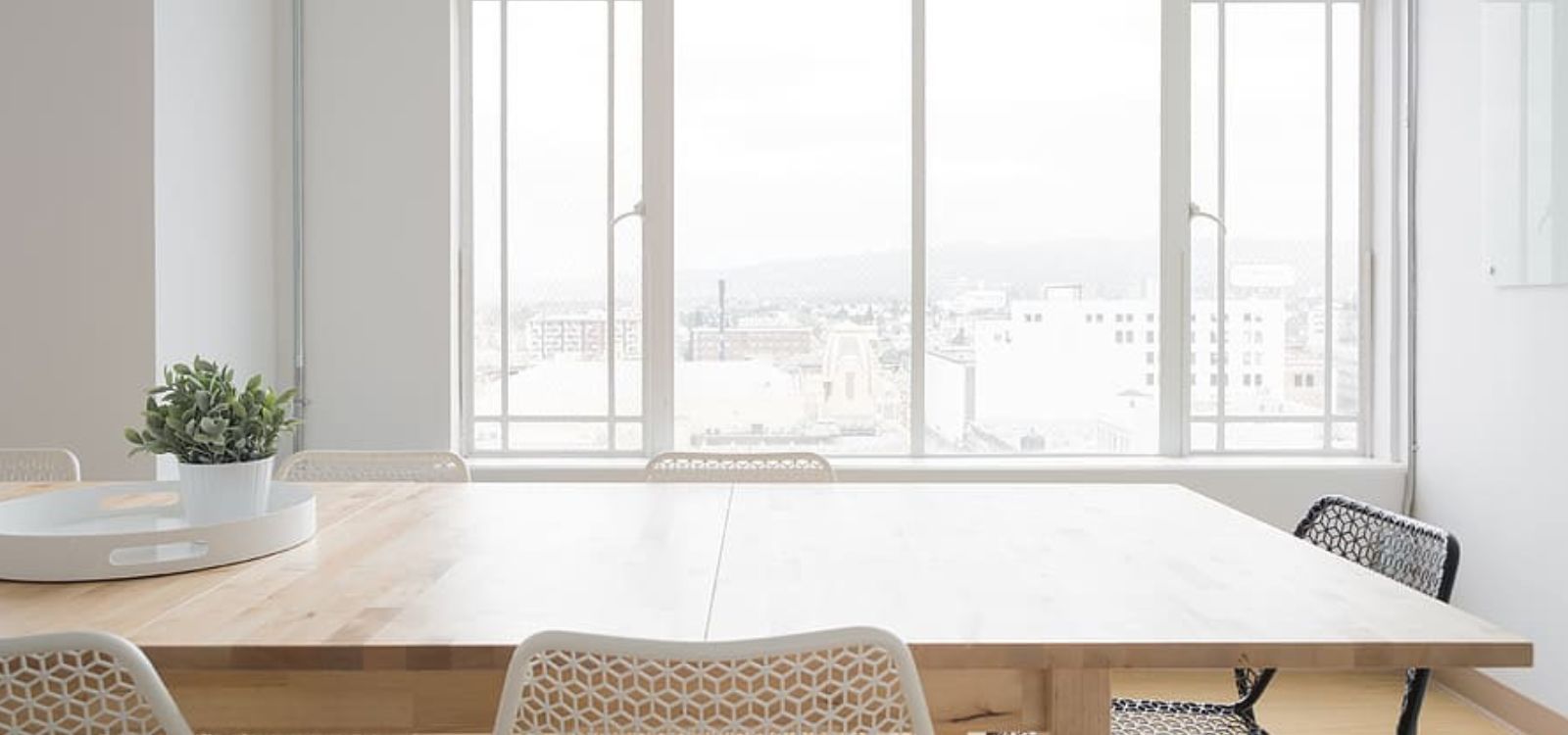 Dining Table Design Ideas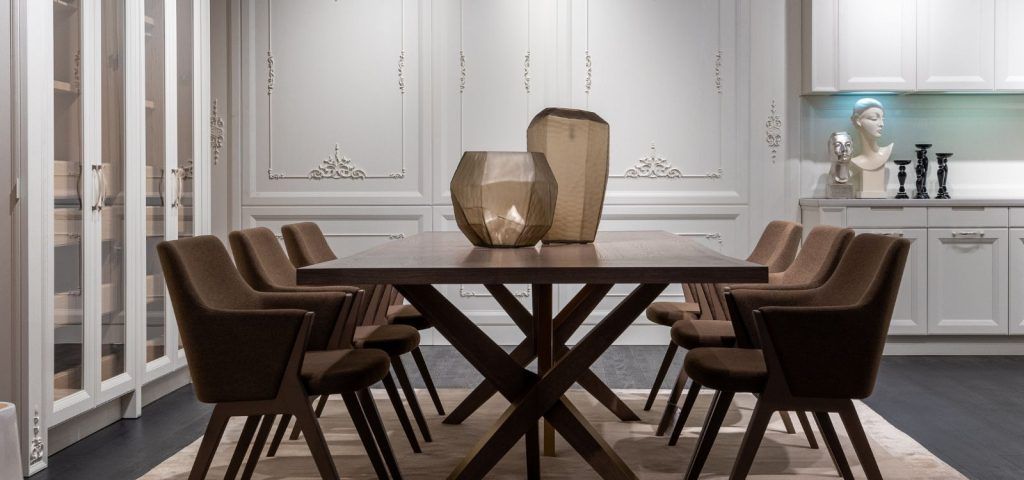 Importance of dining table design
When designing our home, people tend to overlook dining room decor. But in reality, it's a space that brings families and friends together, making it essential to create an inviting and aesthetically pleasing environment. A key element in achieving this is the design of your dining table.
Dining tables are not just functional articles of furniture; they are also central to the aesthetics of your dining room. They serve as a focal point and can significantly impact the overall ambiance of the space.
Not everyone knows how to decorate dining tablesand the room. Let us explore some dining table design ideas that suit different styles and preferences. Specifically, we'll delve into the innovative use of laminates in crafting stylish and functional dining tables.
Traditional Dining Table Designs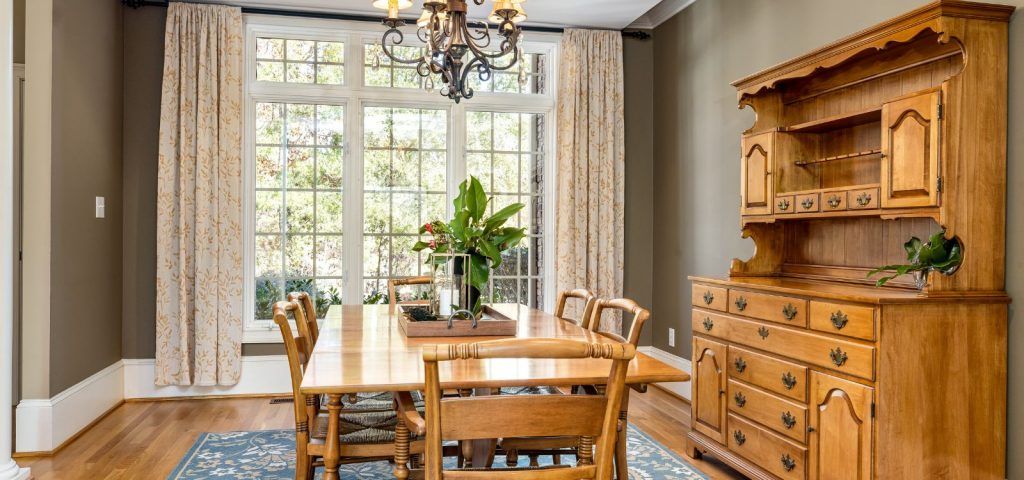 Classic wood finishes
Traditional dining tables often feature timeless wood finishes like oak, cherry, or mahogany. These materials exude warmth and elegance, uplifting dining table décorand creating a cosy atmosphere.
Rectangular and oval shapes
Often found in rectangular or oval shapes, classic dining tables are the epitome of dining room decor ideas. These shapes accommodate larger gatherings while imbuing the space with a sense of formality and timeless elegance.
Matching chairs and upholstery
Pair your table with matching chairs and upholstered seating in rich fabrics to complete the traditional look. This combination adds comfort and a touch of sophistication to your dining room decor ideas.
Modern Dining Table Designs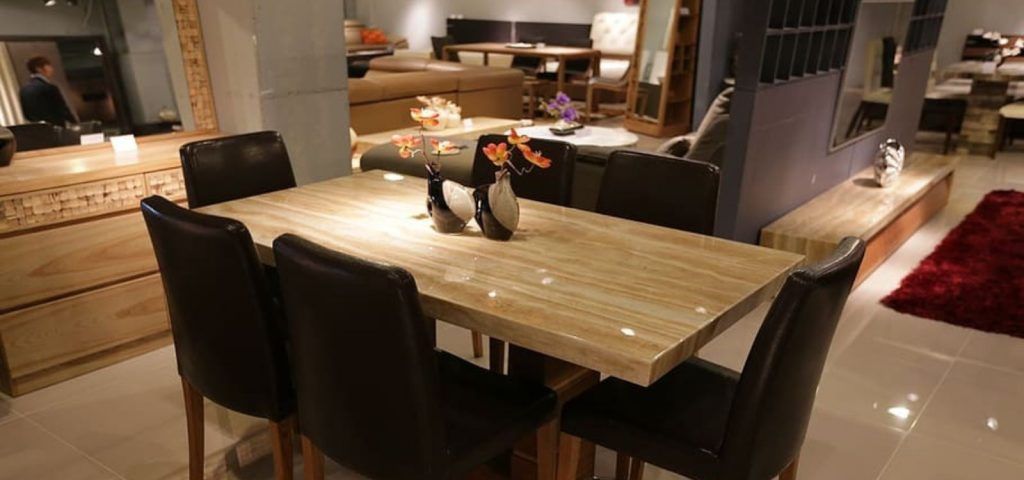 Minimalistic design
Modern dining table ideas embrace simplicity and clean lines, creating a sleek and uncluttered look. These designs often incorporate innovative materials – laminate sheets, glass, and metal – for a contemporary edge.
Round and square shapes
Opt for round or square dining tables to infuse a sense of modernity into your space. These shapes work well in smaller dining areas, promoting an intimate dining experience while maintaining a stylish, contemporary aesthetic.
Open-concept designs for smaller spaces
For compact homes or apartments, consider open-concept dining tables that can double as kitchen islands or fold away when not in use. This way, you can optimize space utilization more efficiently.
Rustic Dining Table Designs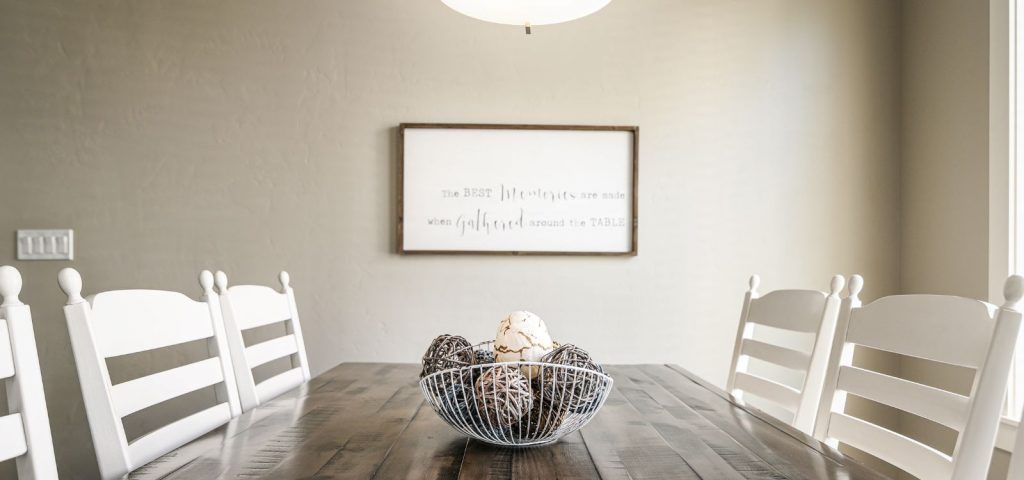 Natural and reclaimed
Rustic dining tables are characterized by the use of natural or reclaimed wood, which imparts a sense of history and authenticity to your dining space. These tables often feature intricate wood grain patterns and knots, adding to their rustic charm and making them a conversation piece in your dining room decor.
Distressed finishes
Add character to your rustic table with distressed finishes to give it a weathered and well-loved appearance. These intentional imperfections enhance the table's visual appeal, telling a story of years of use and gatherings around it, making it a cherished part of your dining room decor.
Farmhouse-style tables
Farmhouse-style dining tables are perfect for creating a warm and inviting atmosphere. These tables feature chunky legs and rustic charm.
Contemporary Dining Table Designs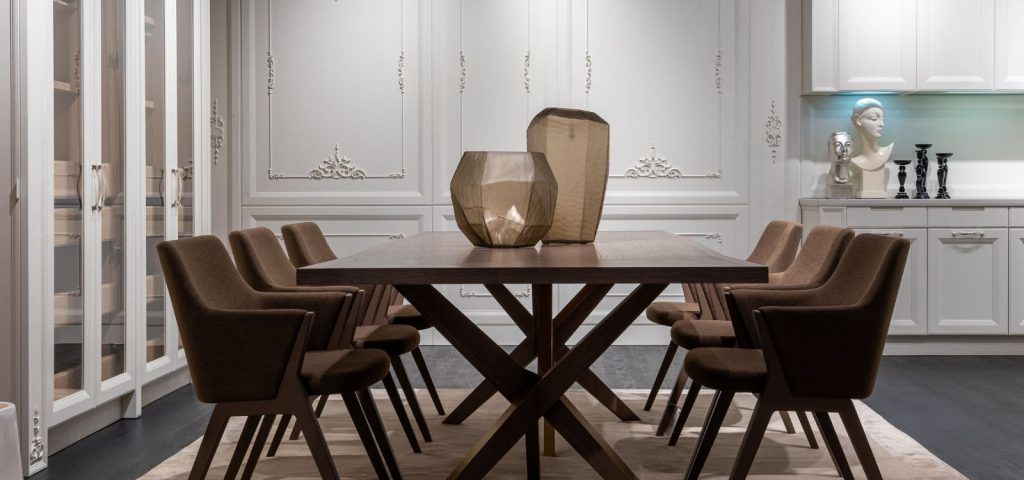 Unique materials
Contemporary dining tables often feature unconventional materials like laminate sheets, pushing the boundaries of design. These innovative choices not only elevate the aesthetics of your dining area but also inspire fresh dining table decor ideas that can incorporate elements like artistic lighting or contrasting chair designs to create a visually stunning dining space.
Geometric shapes
Experiment with geometric shapes like hexagonal or asymmetrical designs to bring life to your modern dining decor idea. With these shapes, you can make a bold statement, giving your dining space a unique, contemporary touch.
Artistic and sculptural bases
Incorporate artistic and sculptural bases to transform your dining table into a piece of art that doubles as functional furniture.
Space-Saving Dining Table Designs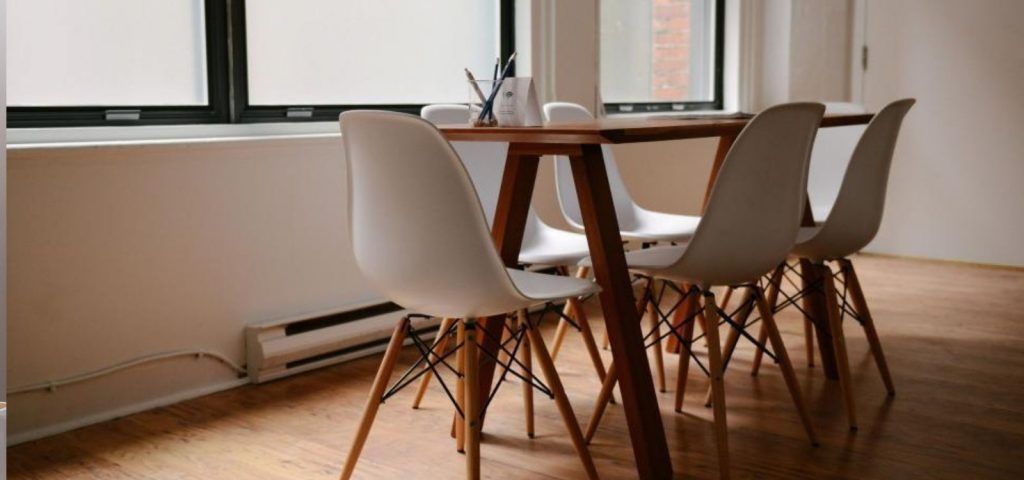 Drop-leaf and extendable tables
Maximize space with drop-leaf or extendable dining tables that can be adjusted according to your needs. These versatile tables not only save space but also offer flexibility, making them ideal for both everyday dining and accommodating larger gatherings or special occasions, adding practicality and style to your dining room decor.
Wall-mounted and foldable tables
For ultra-compact spaces, wall-mounted and foldable tables offer flexibility and style. These space-saving solutions can be easily stowed away when not in use, providing you with a clutter-free dining area that perfectly balances form and function in your dining room decor.
Built-in banquettes and corner nooks
Consider built-in banquettes or corner nooks for a cosy and space-saving dining experience. These cleverly designed seating arrangements not only maximize space but also create an inviting atmosphere, allowing you to make the most of your dining area and add a touch of charm to your dining table decor.
Outdoor Dining Table Designs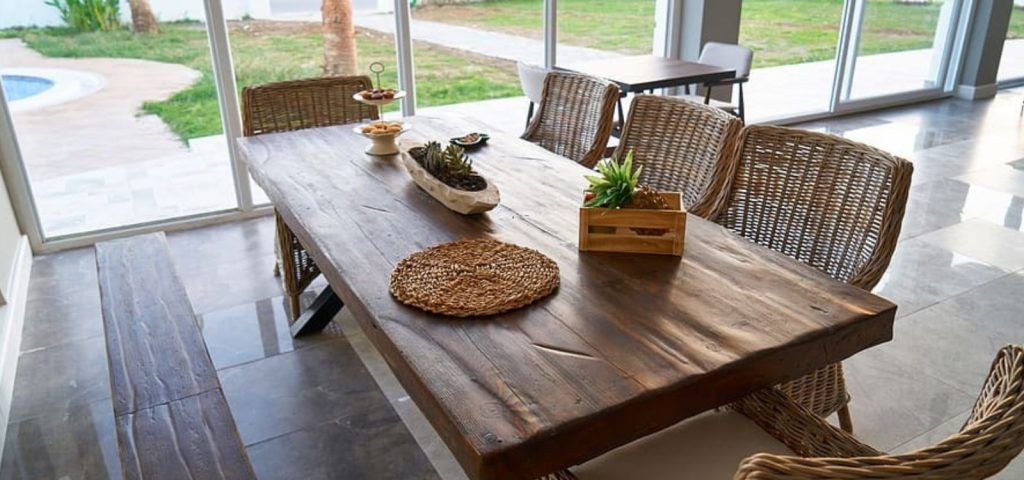 Patio and garden dining tables
Extend your dining area outdoors with patio and garden dining tables, perfect for al fresco dining. These tables are designed with weather-resistant materials, ensuring they can withstand the elements while providing a delightful backdrop for your outdoor dining table decor.
Weather-resistant materials
Choose dining tables made from weather-resistant materials like teak or aluminium to ensure longevity. These durable options not only guarantee that your outdoor dining table remains in pristine condition but also offer a canvas for creative dining table decor ideas that can transform your outdoor space into a stylish and inviting dining haven.
Picnic-style and bistro tables
Create a casual and inviting outdoor atmosphere with picnic-style and bistro tables. These charming choices in outdoor dining decor ideas bring a touch of rustic charm and intimacy to your al fresco dining experience, making every meal a delightful and memorable affair.
Table Laminates in Dining Table Design
Introduction to table laminates
Table laminates are a versatile material that can be used to achieve a variety of looks for your dining table. They are thin layers of decorative paper or fabrics that are bonded to a core material, typically MDF or particleboard.
Benefits of using laminates
Laminates offer durability, ease of maintenance, and a wide range of design options. Moreover, they are resistant to stains, scratches, and heat, making them ideal for contemporary dining table ideas.
Incorporating laminates in dining table decor
Explore the endless possibilities of laminates by using them for table tops in various colours, patterns, and textures. You can combine laminate sheets with other materials like wood or metal to create unique and eye-catching dining tables.
Tips for Choosing the Right Dining Table
Consider the available space
Measure your dining area to ensure the table fits comfortably without overcrowding the room. Pay attention to the space around the table as well, allowing enough room for chairs to be pulled out comfortably and for people to move around freely. Additionally, consider how the table will fit into your overall dining decor ideas, ensuring it complements the room's style and ambiance.
Match the table to your dining room style
Choose a dining table that complements the overall decor and style of your dining room. Whether your space is traditional, modern, rustic, or contemporary, selecting a table that harmonizes with your dining room decor ideas ensures a cohesive and visually pleasing dining area that feels harmonious and inviting.
Think about seating options and capacity
Select seating that matches the table's size and shape, ensuring everyone has enough space. Consider both the number of seats required and the comfort of your dining chairs, as they play a crucial role in creating an enjoyable dining experience that aligns with your dining decor ideas.
Balance aesthetics and functionality
Find a balance between a visually appealing table and one that meets your practical needs. Your dining table should not only enhance the aesthetics of your dining room decor but also provide the functionality required for your specific dining habits, whether it's hosting large gatherings, daily family meals, or multi-purpose use as a workspace.
Budget considerations
Set a budget and explore dining table options that align with your financial constraints. While it's tempting to splurge on a stunning table, remember that there are creative ways to achieve your desired dining decor ideas without breaking the bank. Consider refurbished or second-hand tables, DIY projects, or even exploring how to decorate dining table settings with affordable accessories to elevate the look without overspending. By being mindful of your budget, you can create a dining space that's both beautiful and budget-friendly.
Conclusion
Incorporating thoughtful dining table decor ideas can transform your dining room into a welcoming and stylish space. Whether you prefer traditional elegance, modern simplicity, rustic charm, contemporary flair, space-saving solutions, or outdoor dining, there's a perfect dining table design waiting for you. Consider the use of laminates to unlock an array of design possibilities, ensuring your dining table becomes the centrepiece of your home's dining decor. Explore, experiment, and enjoy the process of creating a dining area that reflects your unique style and enhances your dining experiences.
Please share your details.