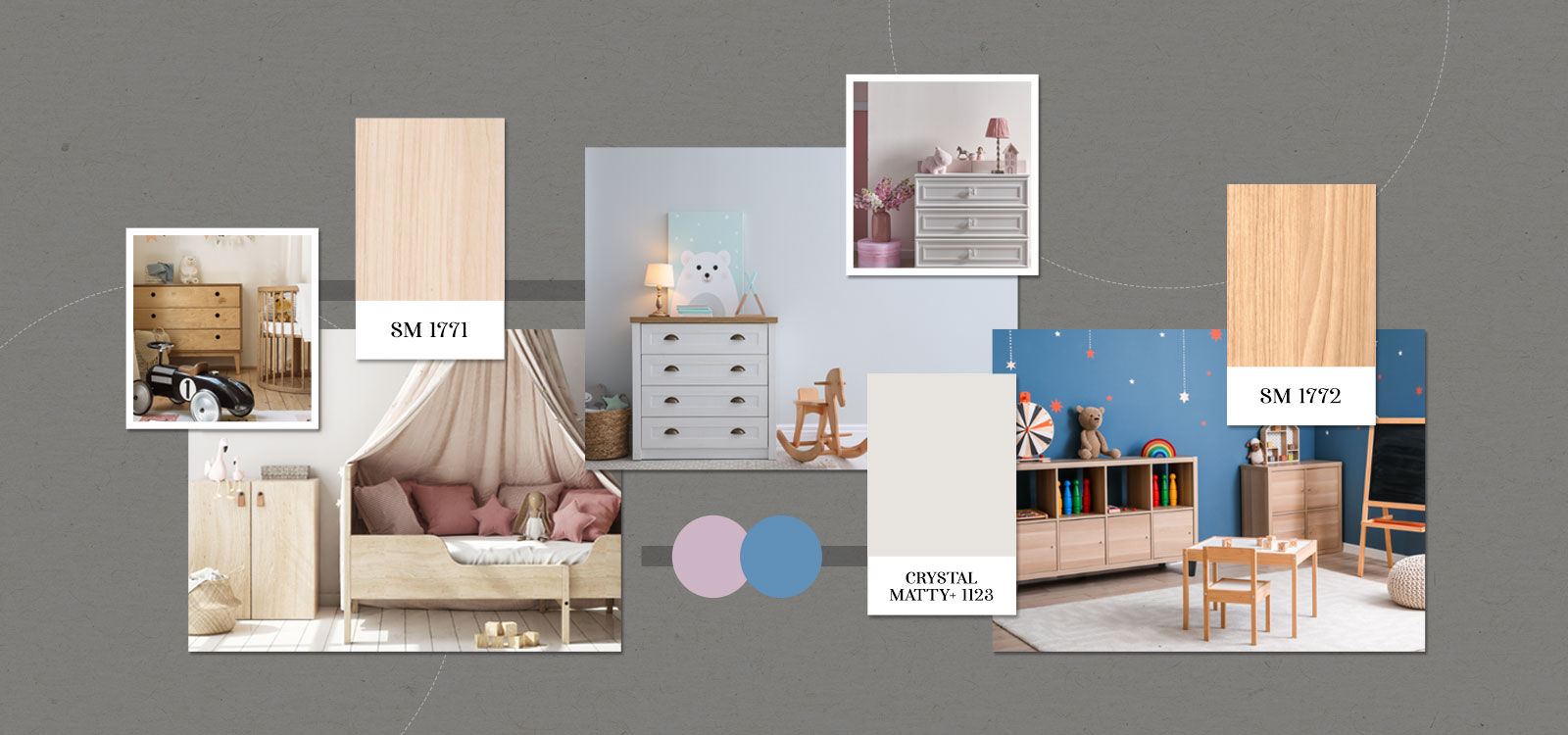 Laminates in Kids' Rooms: Fun and Functional Design Ideas
Vibrant colours, playful corners and soft furnishing are some elements that are often associated with children's rooms. Therefore, designing this particular space can often prove to be quite challenging, as mixing different hues and textures to create a harmonious and functional room that allows adaptability, growth and inspiration is not an easy feat.
So, what do we do?
Well, most experts and interior designers choose to work with decorative laminates, when designing a kid's room. This is primarily because laminate sheets offer creativity, flexibility, durability, as well as affordability.
Summary
What are laminate sheets?
3 fun & functional design options for kids' rooms using Royale Touché laminates
Conclusion
What are laminate sheets?
Royale Touché laminate sheet is an artificial material used for furnishing commercial and residential spaces. They are made with a specialised transparent paper coated with aluminium oxide and a unique resin mixture to protect the top surface of the laminate from scratches, impacts, abrasion, spills and other external agents. Furthermore, a combination of specially treated Kraft papers with a variety of resin mixtures is used to provide strength, balance, stability, better sanding and adhesion, and longevity to the product. The core, once treated under controlled conditions, prevents the laminate from cracking and fracturing, ensuring it looks good and stays good for years.
3 fun & functional design options for kids' rooms using Royale Touché laminates
Nature-inspired theme
Bring the beauty of nature to your children's room by using Royale Touché's kid's room laminates. You can choose from a range of soft botanical prints or customise nature-inspired laminates for the walls or wardrobes. However, if you would like to go bold, choose bright, floral illustrations that bring the outside, inside, and let you create an ambiance that can transform any space into a stunning and cosy abode.
Vintage colours and style
If you love everything vintage, a kid's room is the best place to incorporate some beautiful elements and add that unmistakable old-world charm. You can choose colourful laminates to give this room a fresh makeover and select vintage designs and patterns that align with your aesthetics for the wardrobe. However, it is important to note that while dealing with such colours and designs, it is best to not go overboard and keep it minimal.
Modern and minimal
If you are someone who wants to give your children space to feel comfortable as well as creative, it is best to keep it minimal. Choose kids room sunmica sheets that are clean, yet modern, simple yet stylish. Give them ample storage space that will contribute to a clutter-free design in the room, and choose neutral shades to create a peaceful environment that encourages reading, writing and other activities. 
Conclusion 
There is no rule of thumb when it comes to designing a child's bedroom, but a few important things such as using the right colours, creating functional spaces and using correct lighting can contribute immensely to their creativity and growth.
Please share your details.