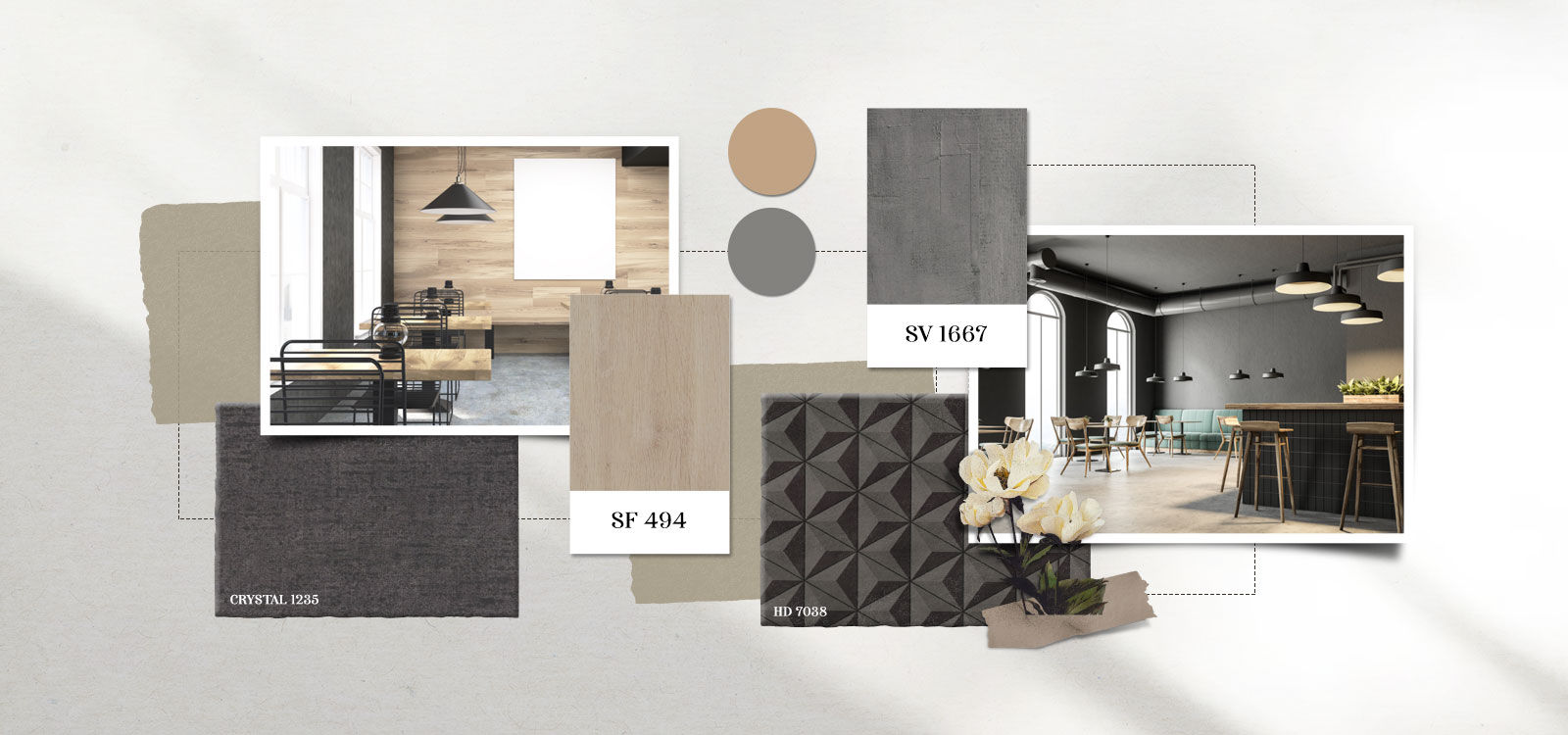 Laminates for Retail Spaces: Elevating the Shopping Experience
As we all know, commercial spaces require the right amount of pizzazz in order to attract the right kind of attention. This is why, decorative laminates are becoming increasingly popular in commercial spaces, as they offer glamour, versatility, and durability. Plus, they are easy to install and can be customized with various colours and patterns, allowing businesses to create unique designs that reflect their brand identity.
Summary 
Different types of laminates for retail shop
Benefits of decorative laminates in commercial spaces
Conclusion 
Different types of laminates for retail shops
Matt laminates: Matt laminate is a natural-looking laminate that provides a softer and sober look, and appears smoother than gloss finish laminate. The texture of a matt laminate is quite velvety and luxe too.
HPL & LPL: Differing only in pressure with which the laminate material is applied to a substrate, HPL is usually used with plywood, while LPL finds its use with MDF.
Textured laminates: The surface finish of a textured laminate is the only factor that differentiates it from other laminate designs. Hence, people who prefer to have amazing aesthetic appeal and a sophisticated appearance typically choose textured laminates.
Antibacterial laminates: Such laminates are decorative laminates with antibacterial properties that keep your space hygienic by reducing the risk of bacterial growth. Such laminates are crafted with special biocidal actives that add an extra layer of protection.
Leather laminates: These types of laminates mimic the natural look of real leather. And, the best part about using leather finish laminates is that even though it exudes such luxurious vibes, it hardly demands a lot of maintenance.
Besides these, Royale Touché also offers solid-coloured laminates, gloss-finish laminates, metal laminates and more. Thereby, giving you an opportunity to choose from a wide range of options.
Benefits of using Royale Touché laminates in commercial spaces:
Scratch Resistant 
Royal Touché uses high-quality products that go through some of the most stringent quality tests at an ISI-certified laboratory equipped with specialized machines from Germany and the USA.
Abrasion Resistant
A common problem with traditional laminates is that they tend to show signs of being worn away, due to rubbing, friction, or grazing, after only a few years of usage. Hence, our company focuses on manufacturing premium sunmica sheets for shops at top-notch facilities with modern equipment imported from Spain and Italy, that can resist erosion of any kind and continue to look spectacular for many years. 
Stain Proof
As commercial spaces have a heavy footfall, over time you may notice spills and stains that make a permanent mark on walls, floors and even furniture. Hence, we advise you to choose Royal Touché, which is a one-stop-shop for all your laminate woes; especially those ugly blotches caused by coffee, wine, sauces, and more. Engineered to resist all kinds of stains, our premium laminates do not just look great, but guarantee to work better. 
Heat Resistant
Our luxury laminates are safe enough to be used for commercial spaces and more as they are halogen-free and treated with fire-retardant chemicals that help in preventing casualties or damages caused due to fire hazards. 
Anti-Bacterial 
In order to reduce the risk of microbes multiplying on the laminate sheets, we believe, it is imperative for laminates to go through the impregnation process. This transforms an average laminate into an antibacterial laminate during the final resin bath; finally, giving you a beautiful and clean space that is bound to attract customers.
If you are planning to give your commercial space a unique look that sets it apart, choose Royale Touché laminates that will not only give you a fantastic look space but also make your brand stand out.
Please share your details.